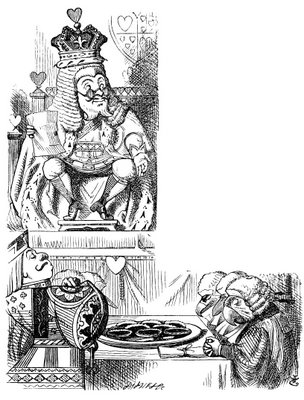 From: http://aliceinwonderland.wikia.com/wiki/King_of_Hearts
"Begin at the beginning," the King said very gravely, "and go on till you come to the end: then stop."
~Alice in Wonderland
I feel so behind on blogging about what is going on. Ok. Let's start at the beginning. Or at least the beginning highlights of IVF cycle #3.
Christmas Day I starting on my Viville-dot .1 estrogen patch. The instructions were to change it out every other day until I started my regular cycle meds. Once I began those, I was to leave the last patch on for 3 days.
Day after Christmas I started my protocol of injecting
Ganirelix 250 mcg for 3 days.
Friday night (12/28) my period started, and that brought me into the ACRM office on Sunday morning to do our baseline ultrasound check: 11 follicles.
Monday (12/31) I started my Bravelle (6 vials of 75UI) and Menopur (2 vials of 75UI). You can see my discussion about that process here.
Friday I had my ultrasound and was introduced to my new nurse. Our old nurse/third party coordinator was promoted to Director of Nursing (or some similar title) and I was a little apprehensive of having to start with a new nurse. Even though our old has frustrated me a few times. Both nurses were there on Friday and I was actually pleasantly surprised with our new nurse. My fear was that she was going to be a total noob, but I couldn't have been more wrong. Apparently she was the former Director of Nurses took 6 months off, and was coming back as the new third party coordinator. She instantly made me feel at ease with her knowledge and bedside manner. Brava because I was very irritated with my clinic that day.
The ultra sound showed 6 follicles growing on my left ovary and 3 on my right. All in the 10mm category. She explained BEFORE the ultrasound (which was really smart in my opinion) that it was very early and the number we were going to see that day could change. Not to worry if we only saw a few. At 9, I was pretty happy.
After the ultrasound, I requested to meet with the financial coordinator. She was supposed to have called me back on Wednesday after speaking with her manager about a mistake they made, but did not. This meeting ended up with manager joining us and I will save that for another post. Suffice to say, I was not pleased about a mess-up and I let them know.
The rest of the day saw me at work, running around trying to get required IVF forms notarized, and finalizing the attorney items. A busy day indeed. The mountain of forms you have to go through is staggering.
Saturday my GC had her ultrasound and mock transfer. All went well, but neither one of us was informed before hand that she would be having this mock transfer. I'm guessing it was a bit of a surprise for her.
Which brings us to today. (Shew.) Another ultrasound and blood work. Lining (where I have it) is striped and at 7mm. There are 4 follicles on the left that are 10mm or greater, and 3 on the right. Several smaller ones that may still be recruited. We will know more at my ultrasound on Tuesday. Blood results came back this afternoon and estradiol is looking good in the 500s. As long as it was in the 300's that was a good sign.
That pretty much brings everyone up to speed. Well, everyone that reads this anyway. Not technically "the end" but a good place to stop for tonight. :-)